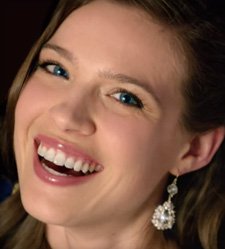 The creators of Invisalign knew adults need braces too. Adults and teenagers live busy lifestyles full of social interaction. They want to feel confident while they work towards a beautiful smile, and they want to avoid the hassles associated with metal braces.
Invisalign clear aligners are the attractive and convenient alternative to traditional braces. In most cases, Invisalign produces the same incredible results that metal braces do.
Why do adults choose Invisalign braces? We have listed just a few reasons why Invisalign is often called "braces for adults" below.
Professional Aesthetic | There's no need to revisit the middle-school-train-track look when you straighten your smile. You can maintain your professional and "adult" appearance when you wear Invisalign. These clear aligners are not distracting, and most people won't have any idea you're wearing braces.
Lasting Comfort | You have a lot going on in your life, so you can't afford to let pain affect your day. Patients easily become accustomed to the smooth plastic of Invisalign aligners. They can forget all about their braces while they progress towards a better smile.
No Extra Work | Don't add lengthy dental cleanings or tough meal prep to your to-do list. You can remove your Invisalign braces whenever you eat so that you can continue to consume any type of food. When it's time to brush and floss your teeth, you can quickly remove your aligners and clean your natural teeth — no added time or patience necessary.
Health Benefits | When you straighten your smile, you are achieving both a more appealing aesthetic and a healthier mouth. Straight teeth are at lower risk for gum disease, tooth decay, and jaw pain. An investment in Invisalign is an investment in a lifetime of health.
You can wear Invisalign with confidence and ease. We offer several orthodontic options for adults so that they can quickly achieve sophisticated and healthy smiles. To learn more about our braces for adults, give us a call today at Cohen Family Orthodontics.