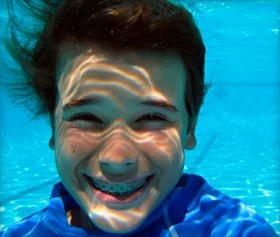 Once you decide that traditional braces are the right fit for you, you have some more personalization to do! While all our traditional braces include brackets and wires, there are slight differences between our three braces options.
When you come in for your orthodontic consultation, you can ask Drs. Lori and Adam Cohen: What types of braces do you offer?
Metal Braces
Traditional metal braces are the most common form of orthodontic treatment, and they have been around the longest. We fashion our braces with high quality titanium steel. Each time Drs. Lori and Adam Cohen adjusts the archwire, your teeth will shift toward their most ideal positions.
Metal braces are accompanied by colored elastics so that you can show off your style in your smile. Neon? Gold? Pink? The choice is yours!
Clear Braces
Clear braces work the same way traditional metal braces do, but they are made of clear materials for a more "adult" look. Many busy teenagers and adults prefer the discreet appearance of clear braces so that less attention is drawn to their orthodontics.
Self-Ligating
Self-ligating braces can be either clear or metal, but they use a special clip to hold the archwire in place instead of elastics. The clip reduces the pressure of braces while still producing incredible results.
Self-ligating braces are the same size and shape as metal braces, but they require fewer visits to the orthodontist because there are no elastics to replace!
There are different advantages to each type of traditional braces. You can find out which braces are right for your smile with an assessment from your orthodontic professional.
Drs. Lori and Adam Cohen would be pleased to talk with you about your dental needs and help you to achieve your smile goals. If you have any questions about our braces options, you are welcome to ask any of our friendly team members! We want to give you a set of braces that exceeds your expectations.
To schedule your exam and consultation with Drs. Lori and Adam Cohen, give us a call at Cohen Family Orthodontics today!