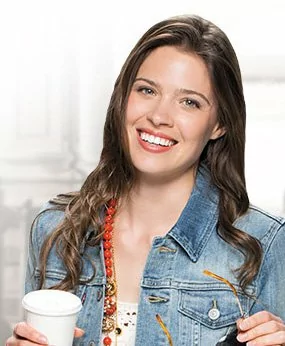 Braces have been around for years, but Invisalign braces takes orthodontic treatment to a new level. Invisalign was designed for comfort, convenience, and discretion.
Invisalign clear braces allow the patient to straighten their teeth with plastic trays instead of brackets and wires. The trays are smooth and clear, and they are custom-made to fit the patient's smile.
How Does Invisalign Work?
Invisalign works with a series of these custom clear aligners. Drs. Lori and Adam Cohen and their team will create this series of aligners for you based on your smile needs and goals. Each time your smile makes significant progress towards perfection (usually about every two weeks), you will move up to a newer set of aligners in the series. You will continue to switch out aligners until you accomplish a stunningly straight smile.
Why Choose Invisalign?
Many patients find that their lives are hardly altered at all when they wear Invisalign aligners. Invisalign is removable, resulting in easy cleaning. You can also continue to maintain your regular diet without any changes, because you will remove the orthodontics whenever you eat.
Is it Best for Me?
Invisalign may be an ideal option for teenagers and adults, or any patient who is image-conscious. These clear aligners can give you the same healthy and beautiful smile that braces can, but without the same kind of commitment. The best part of the Invisalign process is that no one will even notice that you are straightening your teeth!
Invisalign clear braces are a great fix for overbite, crookedness, and crowding. Patients with more complex needs may require traditional braces to achieve a flawless smile. Come ask Drs. Lori and Adam Cohen if Invisalign braces are right for you.
We hope you will choose us for an unparalleled orthodontic experience. We are dedicated to improving the lives of our patients with comfortable braces and straight and confident smiles. To schedule your appointment, call us today at Cohen Family Orthodontics.